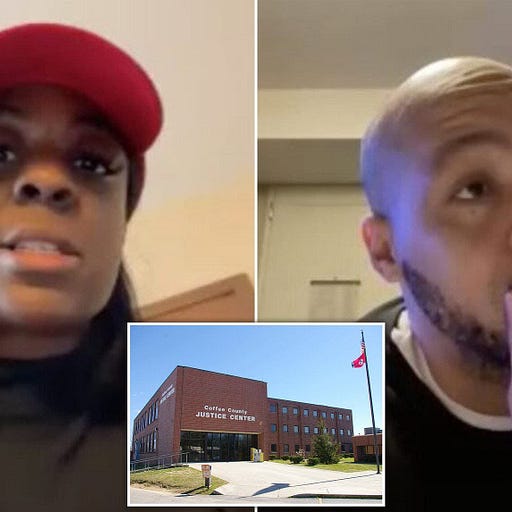 Mar 17 • 21M
The State of Tennessee stole all 5 kids from a Black couple after a traffic stop. A month later, the state still has the kids, including a breastfed baby. Episode #772 of The Breakdown with Shaun King
Go now to Apple Podcasts or Spotify, or simply click the play button here to listen to today's full episode of The Breakdown with Shaun King
Join Shaun as he unpacks the most important stories of injustice, racism and corruption, but also tells you who's fighting back and how you can support and join them with practical action steps.
Please listen to today's full episode of The Breakdown with Shaun King FOR FREE by clicking the play button above or listen directly on Apple Podcasts or Spotify! When you subscribe and listen there, it helps us. We are now getting back to emailing each episode, and opening up comments for everyone as well. Please listen, subscribe, share, and comment below!
Click HERE to listen on Apple Podcasts.
Click HERE to listen on Spotify.
---
SHOW NOTES: Exactly 1 month ago today, a wonderful Black couple and their 5 sweet babies, were traveling from Georgia to Chicago for a family funeral when they were pulled over by Tennessee Highway Patrol on a bogus traffic stop for "staying in the left lane and not actively passing someone."
In other words, driving while Black.
The children, which include a newborn, a 2 year old, a 3 year old, a 5 year old, and a 7 year old were asleep in the back. Police then arrested the father for possession of a tiny amount of weed - a misdemeanor - that is legal in much of Georgia but not Tennessee - and instructed the mother to drive to the local "justice center" to bail out the father.
When the mother got there, it was a trap. Police and Child Protective Services surrounded her and forcefully took all of her kids, including her breastfed baby. My blood is boiling just typing these words.
Police had lied and said the mother was arrested and called Child Protective Services to get the children. But she wasn't under arrest and had committed no crime.
That was a month ago - and the state STILL has their kids.
To listen to today's FULL EPISODE of The Breakdown click these links on Apple Podcasts or Spotify or go there directly and search for "The Breakdown with Shaun King." Subscribe there for FREE and listen to the podcast.

If you are already on Apple Podcasts or Spotify, please subscribe, listen, share, leave reviews, and listen daily to the entire episode. The more of it you listen to, the better it is for us.

Love and appreciate you all.

Shaun
---
ABOUT THE AUTHOR: Shaun King is one of the most followed and shared activists and journalists in the world. In addition to being the Founder and Editor in Chief of The North Star, he also leads the Grassroots Law Project and the Real Justice PAC. A historian by training, Shaun King is the New York Times bestselling author of Make Change: How to Fight Injustice, Dismantle Systemic Oppression, and Own Our Future. His upcoming book, a memoir called Lemons and Stones, is on sale now! Shaun's daily news podcast, The Breakdown with Shaun King, has been heard and shared hundreds of millions of times in almost every country in the world and is available on Apple Podcasts, Spotify, and everywhere podcasts are heard. Shaun has been with his brilliant wife, Rai, for nearly 25 years, and they are raising their 5 kids in Brooklyn, New York.