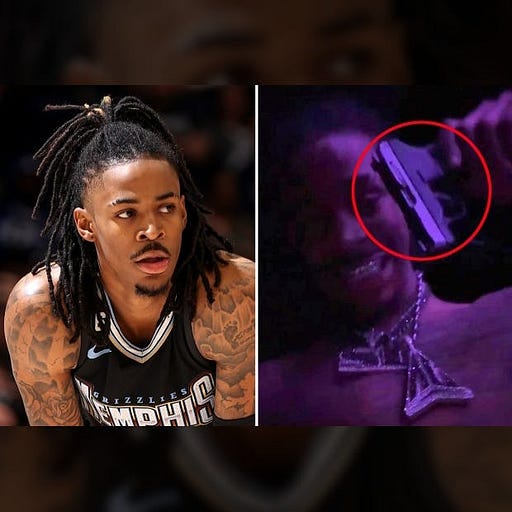 Mar 6 • 23M
Hoping that Ja Morant averts real tragedy moving forward :: LISTEN NOW to Episode #764 of The Breakdown with Shaun King
Go now to Apple Podcasts or Spotify, or simply click the play button here to listen to today's full episode of The Breakdown with Shaun King
Join Shaun as he unpacks the most important stories of injustice, racism and corruption, but also tells you who's fighting back and how you can support and join them with practical action steps.
Please listen to today's full episode of The Breakdown with Shaun King FOR FREE by clicking the play button above or listen directly on Apple Podcasts or Spotify! When you subscribe and listen there, it helps us. We are now getting back to emailing each episode, and opening up comments for everyone as well. Please listen, subscribe, share, and comment below!
Click HERE to listen on Apple Podcasts.
Click HERE to listen on Spotify.
---
SHOW NOTES: I'm a huge sports fan. And follow the NBA closely as a hobby. Ja Morant, the young Memphis Grizzlies star, is definitely one of my favorite players to watch. My whole family loves him.
But sadly, over the past year, he has had at least 3 incidents with guns, that have made it clear, to say the least, that Ja is not quite on the right path.
Truthfully, a full fledged intervention needed to happen after the first incident. And it never happened. It definitely needed to happen after the second incident. And it never happened. In fact, nothing substantive happened either time.
Then, this weekend, Ja could be seen flashing a gun on his Instagram live, and it seemed to be the straw that broke the camels back. While he's now suspended from the team for what might've been the least dangerous of the 3 incidents we know of, this is bigger than basketball. We need to be thinking about this young man's life.
Let me unpack and explain it.
To listen to today's FULL EPISODE of The Breakdown click these links on Apple Podcasts or Spotify or go there directly and search for "The Breakdown with Shaun King." Subscribe there for FREE and listen to the podcast.

If you are already on Apple Podcasts or Spotify, please subscribe, listen, share, leave reviews, and listen daily to the entire episode. The more of it you listen to, the better it is for us.

Love and appreciate you all.

Shaun
---
ABOUT THE AUTHOR: Shaun King is one of the most followed and shared activists and journalists in the world. In addition to being the Founder and Editor in Chief of The North Star, he also leads the Grassroots Law Project and the Real Justice PAC. A historian by training, Shaun King is the New York Times bestselling author of Make Change: How to Fight Injustice, Dismantle Systemic Oppression, and Own Our Future. His upcoming book, a memoir called Lemons and Stones, is on sale now! Shaun's daily news podcast, The Breakdown with Shaun King, has been heard and shared hundreds of millions of times in almost every country in the world and is available on Apple Podcasts, Spotify, and everywhere podcasts are heard. Shaun has been with his brilliant wife, Rai, for nearly 25 years, and they are raising their 5 kids in Brooklyn, New York.