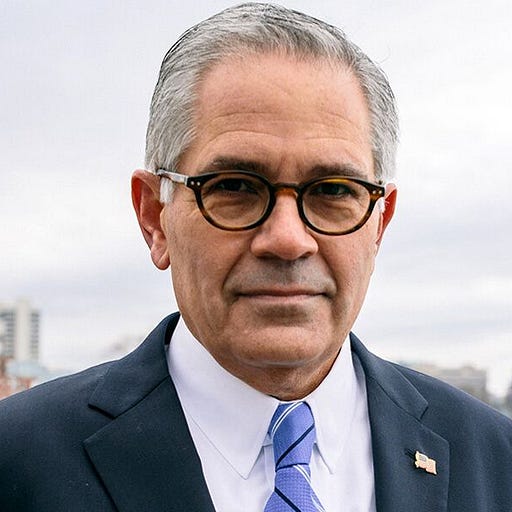 Nov 17, 2022 • 18M
EMERGENCY. Conservatives in Pennsylvania just voted to impeach Philadelphia DA Larry Krasner. Episode 711 of The Breakdown with Shaun King
This man has fought for us his whole life. He has overturned more wrongful convictions than anyone in American history. Now he needs us to step up for him.
Join Shaun as he unpacks the most important stories of injustice, racism and corruption, but also tells you who's fighting back and how you can support and join them with practical action steps.
Please listen to today's full episode of The Breakdown with Shaun King FOR FREE by clicking the link above or listen directly on Apple Podcasts or Spotify! When you subscribe and listen there, it helps us. We are now getting back to emailing each episode, and opening up comments for everyone as well. Please listen, subscribe, share, and comment below!
Click HERE to listen on Apple Podcasts.
Click HERE to listen on Spotify.
---
After they just lost their majority in the Pennsylvania State House in the midterm elections, white conservatives in Pennsylvania just rushed through a vote in the 5 weeks they have left in power, to impeach Philadelphia's duly elected DA, Larry Krasner. It's a catastrophic development.

Larry not only just won reelection in Philly in an absolute blowout, he may have the most support of any elected official in the entire city.  And white conservatives that don't even live there are VERY CLOSE to overturning the will of Black voters in Philly - not because Larry is unethical or broke the law, but because they hate what Larry stands for.

This has NOTHING to do with the safety and security of Philly. Those white conservatives don't give a DAMN about the well-being of the city. This is about power, about them flexing the little power they have left, and about them getting a feather in their cap for their base.

But let's be clear. THIS IS A TREND. And it's coming to a city near you. Let me unpack and explain it.

To listen to today's FULL EPISODE of The Breakdown click these links on Apple Podcasts or Spotify or go there directly and search for "The Breakdown with Shaun King." Subscribe there for FREE and listen to the podcast.

If you are already on Apple Podcasts or Spotify, please subscribe, listen, share, leave reviews, and listen daily to the entire episode. The more of it you listen to, the better it is for us.

Love and appreciate you all.

Shaun
---
ABOUT THE AUTHOR: Shaun King is one of the most followed and shared activists and journalists in the world. In addition to being the Founder and Editor in Chief of The North Star, he also leads the Grassroots Law Project and the Real Justice PAC and recently became the Contributing Editor for Newsweek. A historian by training, Shaun King is the New York Times bestselling author of Make Change: How to Fight Injustice, Dismantle Systemic Oppression, and Own Our Future and his upcoming book, a memoir called Lemons and Stones, is on sale now! Shaun's daily news podcast, The Breakdown with Shaun King, has been heard and shared hundreds of millions of times in almost every country in the world and is available on Apple Podcasts, Spotify, and everywhere podcasts are heard. Shaun has been with his brilliant wife, Rai, for nearly 25 years, and they are raising their 5 kids in Brooklyn, New York.