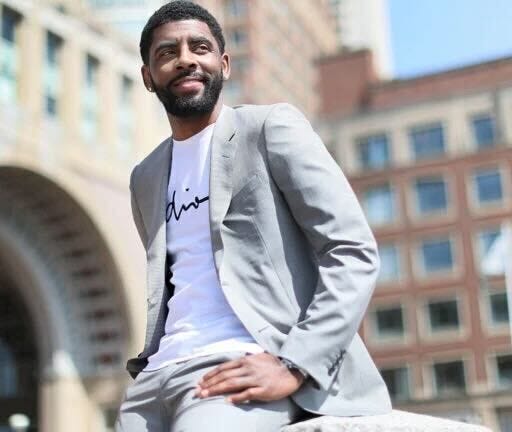 Nov 7 • 24M
(LISTEN NOW) Why I won't be canceling Kyrie Irving :: Episode 702 of The Breakdown with Shaun King
How some of the most important words of Nelson Mandela are very appropriate for the moment that we find ourselves in
Join Shaun as he unpacks the most important stories of injustice, racism and corruption, but also tells you who's fighting back and how you can support and join them with practical action steps.
Please listen to today's full episode of The Breakdown with Shaun King by clicking the link above - or directly on Apple Podcasts or Spotify! When you subscribe and listen there, it helps us. We are now getting back to emailing each episode, and opening up comments for everyone as well. Please listen, subscribe, share, and comment below! (PERSONAL NOTE: This is safe place to ask questions and push back if you need to, OK?)
The Breakdown with Shaun King is a reader-supported publication. To receive new posts and support my work, consider becoming a free or paid subscriber.
---
In 1990, soon after his release from prison, Nelson Mandela traveled to New York, and was interviewed by Ted Koppel in front of over 1,000 people at City College. To start the event off, a man in the audience all but demanded that Mandela denounce Fidel Castro, Yasser Arafat, and Muammar Gaddafi.

On today's full episode of The Breakdown I'll play Mandela's brilliant and timeless answer, where, in short, he tells the man, "You make a big mistake to think that your enemies are my enemies."

Kyrie Irving is not our enemy. I know this man personally. He is a kind, compassionate, giving, inquisitive soul. He is a dedicated father and son. And I have seen him, time and time again, actually BE THERE for Black people at our time of need. Not just with words, but with resources.

Does that mean I support everything he says or does? Or vice versa? Of course not. I can't name a single soul on Earth in which that is true for me. I don't even agree with everything my own wife or mother say or do.

And that can never be the standard.

I'm not here to pit Kyrie and Kanye against each other, but they aren't the same person and aren't guilty of the same things. Kyrie has owned his words and actions. And apologized for the ways they caused offense.

Now, I will literally defend the right of Jewish people for that to not be enough for them. That's their business.

But we simply cannot allow other people to define for us who we cancel and who we don't. That ends with us having no leaders and heroes.

To listen to today's FULL EPISODE of The Breakdown go now to Apple Podcasts or Spotify and search for "The Breakdown with Shaun King." Subscribe there for FREE and listen to the podcast.

If you are already listening on Apple Podcasts or Spotify, please subscribe, listen, share, leave reviews, and listen daily to the entire episode. The more of it you listen to, the better it is for us.

Love and appreciate you all.

Shaun
The Breakdown with Shaun King is a reader-supported publication. To receive new posts and support my work, consider becoming a free or paid subscriber.
---
ABOUT THE AUTHOR: Shaun King is one of the most followed and shared activists and journalists in the world. In addition to being the Founder and Editor in Chief of The North Star, he also leads the Grassroots Law Project and the Real Justice PAC and recently became the Contributing Editor for Newsweek. A historian by training, Shaun King is the New York Times bestselling author of Make Change: How to Fight Injustice, Dismantle Systemic Oppression, and Own Our Future and his upcoming book, a memoir called Lemons and Stones, is on sale now! Shaun's daily news podcast, The Breakdown with Shaun King, has been heard and shared hundreds of millions of times in almost every country in the world and is available on Apple Podcasts, Spotify, and everywhere podcasts are heard. Shaun has been with his brilliant wife, Rai, for nearly 25 years, and they are raising their 5 kids in Brooklyn, New York.